Luna trecuta am vrut sa plec in weekend intr-un 'city break' in Europa, si cum nu eram decis in ce oras sa merg, am consultat ghidul turistic songkick.com unde sunt listate concertele din toata lumea. Am importat de pe last fm trupele pe care le ascult si m-am uitat pe unde au concerte. Pe multe le-am tot vazut, altele nu aveau concerte programate, iar Nick Cave and The Bad Seeds tocmai faceau turul Europei. Cum nu l-am vazut niciodata, am rezervat bilete cu o luna inainte prin wizz air la un pret destul de bun dus intors, am comandat biletele la concert care se vindeau doar printate, au venit prin dhl si mi-am luat zborul sa descopar Geneva, punctul culminant fiind domnul Cave, zis pe meleagurile noastre si Nicu Pestera.
Da, Geneva este extrem de scumpa, nu poti lua mai nimic sub 10 franci. In schimb tara, orasul si oamenii sunt de nota 10. In seara cu pricina am inchiriat cu prietena mea doua biciclete, am luat orasul la roata si dupa ce am facut pe turistii vizitand Palatul Pacii (Natiunilor Unite) ne-am indreptat spre arena concertului. Pentru internet, Elvetia nefiind in Uniunea Europeana, trebuia activat roamingul, iar internetul costa 1 Mb = 8 Euro asa ca am tinut pe off tot timpul datele mobile. Ceea ce e destul de aiurea cand esti calare pe bicicleta si nu prea stii pe unde sa o iei. Trebuie sa verifici mereu google maps in offline si sa te uiti tot timpul dupa indicatoare sau sa mai intrebi lumea. In cele din urma am ajuns la arena, dupa multi km de pedalat, rupti de foame, si abia dupa ce am intrat in arena am aflat ca nu se mai putea iesi de acolo decat definitiv. Asa ca a trebuit sa ne umplem stomacul cu ce aveau pe acolo, shaorma si carnati cu cartofi prajiti, ceea ce nu era chiar idealul inaintea unui concert cu Nick Cave. In fine, dupa ce am luat de la standul de merch produse de o valoare pe care n-am vrut s-o cunosc, platind cu cardul si evitand sa ma uit pe POS, ne-am ocupat locurile de pe bilete care erau cam pe aici…
Am admirat de acolo arena plina cu mii de oameni si am realizat ca un concert Nick Cave de tipul asta ar fi imposibil in Bucuresti, nu de alta dar n-ar avea unde sa cante. Arenele Romane poate s-ar potrivi ca dimensiune, dar se vede ca un astfel de concert are nevoie de conditii speciale pentru a crea o anume atmosfera, pe care cam niciun loc din Bucuresti n-ar putea sa le ofere. Se vede ca arena a fost pregatita pana la cel mai mic detaliu pentru acest concert. N-a fost nimic in deschidere, iar muzica clasica din surdina a intretinut bine atmosfera.
Si cand s-au stins luminile au inceput tipetele de bucurie si aplauzele iar pe scena au intrat membrii de la The Bad Seeds si domnul Cave.
Concertul s-a concentrat foarte mult pe ultimul album Skeleton Tree, care a avut un eveniment dedicat la bar si care este psychedelic de bun si de bine scris. Albumul si turneul vin la ceva timp dupa moartea fiului sau de 15 ani, Arthur, care a murit cazand de pe o stanca. Tristetea si drama traita isi pune adanc amprenta pe album.
Urmarindu-i prestatia lui Cave si ascultandu-i vocea, gandul mi-a zburat repede la nimeni altul decat Morrison, desi ai spune ca e mai apropiat de Bowie, Reed, Cohen sau Waits. In filmul din capul meu, in acele piesele mai psychedelice Nick este un fel de Jim actual care duce mai departe poezia si muzica lucrata din improvizatie. Timbrul vocal, vocea ba calma si solemna, ba urlata si exasperata, sinceritatea si mai ales libertatea completa a pieselor, cand nu stii daca doar canta versurile sau improvizeaza pe parcurs… te baga intr-o stare de perplexitate muzicala.
Unul din primele momente marcante este Higgs Boson Blues, care este un fel de oda a emotiilor… I'm goind down in Geneva baby… cu vocea si instrumentele mocnite, cu improvizatii de voce in dialog liric si muzical cu publicul din fata… pastreaza instrumentele la foc potolit, momentul este solemn si delirant… Can You Hear My Heart Beat?… Boom! Boom! Boom!… Acest 'Boom Boom Boom' devine pe tot parcursul concertului un fel de laitmotiv si este strigat periodic si aleatoriu de catre cineva din public, in momentele de jam si liniste poetica a altor piese.
Conexiunea cu publicul este permanenta. Cave isi atinge mai tot timpul mainile cu cei din fata in timp ce canta, uneori chiar se sprijina pe mainile din fata cu tot corpul, uneori e pe scena si isi muta centrul de greutate pe publicul din fata sprijinindu-se pe mainile lor, la un moment dat a coborat in multime si a cantat de acolo. Am coborat si eu din tribune printre oameni, mai aproape de scena, unde totul se simte mai direct si mai personal.
De consemnat Jubilee Street, Into My Arms si urmatorul moment marcant al concertului, Red Right Hand. Interactiunea cu publicul si a publicului cu dl. Cave e remarcabila. Piesa se canta atfel, apar niste versuri geniale pe care nu stii daca le-a adaugat inainte sau i-au venit pe moment, poate canta piesa aia intr-o mie de feluri.
Apoi timpul si viata se opresc pentru 5 minute in loc, pentru ca urmeaza The Mercy Set. Piesa veche care spune povestea interioara a unui om care se considera nevinovat, condamnat la scaunul electric. Refrenul este repetat obsedant de multe ori, iar si iar, pe nerasuflate si in agonie, cu toata pasiunea.
Dupa alte momente, Skeleton Tree concertul pare ca se termina. Bis-ul este foarte puternic si revin pe scena. Pe neasteptate ma pomenesc cu dl. Cave in public langa maine. Se suie pe o mica scena de acolo, publicul contribuie excelent. Cineva ii tine microfonul in timp ce el ne invata in jam ritmul de batut in palme din The Weeping Song. Nu va imaginati ca era un ritm simplu, niste batai de octave cu intensitati mai mari sau mai mici de batut din palme foarte rapid. Instrumentele tac si toata arena tine ritmul ala complex. Se uita admirativ si il vad cum explama… Awesome! Canta si glumeste cu oamenii de langa, fara microfon.
Incepe Stagger Lee si revine pe scena cu public dupa el. Fara sa stau pe ganduri intru si eu pe scena impreuna cu o multime de oameni. Te simti parte din show. Cheama mai departe oamenii pe scena si pe unii ii ajuta sa urce in timp ce canta.
La un moment dat ne spune tuturor de pe scena sa ne asezam. Urmeaza alt moment de jam si liniste poetica … presart iar din public de acelasi Boom Boom Boom si mici rasete.
Momentele sunt sublime si memorabile. Cave are nevoie sa cante impreuna cu publicul, iar publicul impreuna cu el. Dupa linistea poetica urmeaza dementa strigatelor. Yeah yeah yeah yeah! si atmosfera se linisteste iar, se canta aproape soptit Push The Sky Awey. La final se arunca intr-un mic crowd surfing, apoi prezinta membrii trupei care au facut o treaba excelenta, facand tot acest jam dupa el si ca orice lucru frumos, se termina.
Mi-am dat seama inca de la primele piese ca va fi unul din cele mai tari concerte la care am fost vreodata, dar nu ma asteptam la faptul ca 20 de minute il voi urmari chiar de pe scena. Sunetul a fost impecabil, cum rar am auzit in concerte, iar prestatia de milioane. Ma asteptam sa am parte de un show interesant, dar adevarul e ca mi-a depasit cu mult asteptarile.
Am mai dat o tura la standul de merch si am luat papusa asta pe care am agat-o la bar: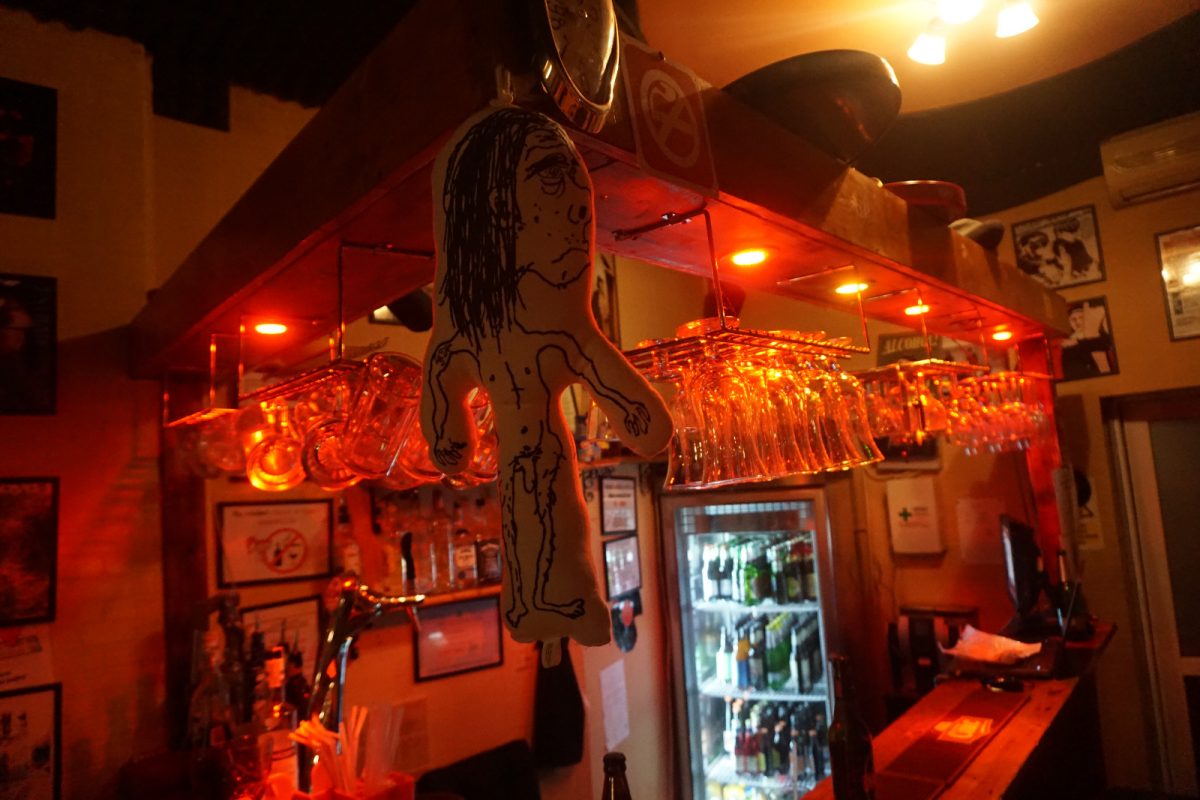 N-am mai avut timp de inca o bere si povestiri pentru ca a trebuit sa facem traseul pe bicicleta jumatate din Geneva de la arena pana la hotel, ziua urmatoare avand avionul inapoi foarte de dimineata.
Una peste alta, a fost one hell of a concert si o experienta momorabila. Mergeti sa-l vedeti pe Nick Cave oriunde puteti daca nu vine in Romania, merita din plin!
Oricum, mi se pare o ocazie buna sa facem o antologie a concertelor Nick Cave la bar. Asa ca luni 27 Noiembrie va invit la trei betivi bar sa urmariti un montaj de 2 ore cu evolutia live a lui Nick Cave din '79 pana in zilele noastre in 2017. Incerpand de la The Birthday Party numiti la inceput The Boys Next Door, continuand cu Bad Seeds si episodul Griderman, timp de 2 ore vom trece in ordine cronologica prin mai multe momente live ale domnului Cave, urmarindu-i prestatia de la prima aparitie pe scena pana in zilele noastre.
Pagina evenimentului: https://facebook.com/events/1105193826282391/